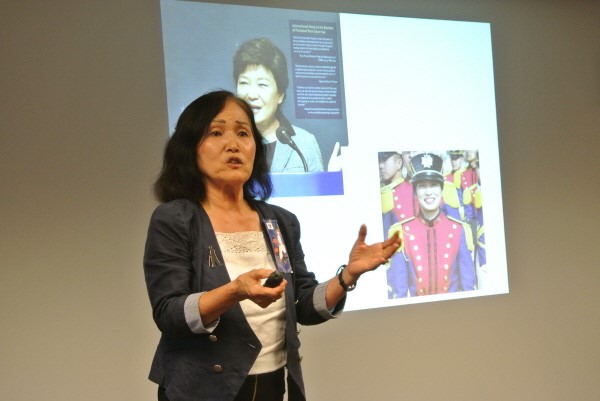 Maija gave a power point presentation on her autobiographical novel about Korea, The Voices of Heaven, on 9/12/15, at the University of Washington East Asian Library's Buksori (Korean Drum Beat) Program.  KOAM TV of Seattle and SeattleN News crew covered the event.  Here is the link to SeattleN New article.
http://www.seattlen.com/n/bbs/board.php?bo_table=News&wr_id=10226
Summary translation in English: ". . .  for the first time, the U. Washington Library Korean Studies Section's "Book Sori" ("Korean Drum Beat") author series, which ran for 2 years,  invited an author who wrote a book about Korea in English. . . . using 'dramatic and delightful' Korean language and delivering her presentation powerfully, Maija Rhee Devine transported her audience to her autobiographical, magical stories of growing up in patriarchal, son-preferring Confucian Korea and living through the Korean War. . . .  With her punchy delivery style, she had the audience break out in laughs, but under the hilarity ran profoundly sad course of her stories."
#seattle #thevoicesofheaven #koreanwar
In her TEDx Talk, 2/22/14, (http://youtu.be/GFD-6JFLF5A), Maija discusses the characters and the stories of love affected profoundly by the Korea's centuries-old son preference culture and the Korean War as portrayed in The Voices of Heaven.